In the Ministry of Infrastructure estimated losses from the ban on the transit of Ukrainian goods through Russian territory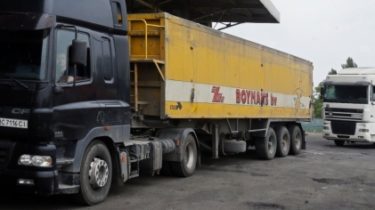 In the Ministry of Infrastructure estimated losses from the ban on the transit of Ukrainian goods through Russian territory
© UNIAN
Ukraine has not imposed any restrictions on the transit of Russian consumer goods.
Year restrictions transit of Ukrainian goods through Russian territory caused Ukraine losses of one billion dollars.
About it on air "Gromadsky TV" said the Deputy Minister of infrastructure on European integration Viktor Dovgan.
"The situation is really complicated. Losses due to restrictions of transit through the territory of the Russian Federation make more than a billion dollars, which is about 2% of GDP. Direct losses of the exporters who have lost markets. And yet – the loss of carriers," said Dougan.
Russia blocked nearly all transit through its territory of Ukrainian goods to the countries of Central Asia.
"This is perhaps a unique case of transit of the war, when the Russian Federation on 1 January 2016 restricted our transit to Kazakhstan for a period of six months, and then on 1 July, the restrictions were extended until the end of 2017, and distributed on transit in the Kyrgyz Republic. Moreover, even though their regulations in the decree of the President of the Russian Federation, they have limited our exports to other countries in Central Asia. In fact, Ukraine's total exports, which went by rail or road ways through the territory of the Russian Federation, was blocked," – said Deputy Minister of infrastructure.
Ukraine will appeal against the actions of Russia in the world trade organization.
"Actually, the case started after we realized that the restrictions will last more than six months. Because only to prepare the claim is more than six months. The lawsuit was filed, consulted. We effectively worked together with the Ministry of economic development and trade. I can say that the Russian delegation at the consultations in Geneva, the WTO Secretariat, looked pretty bad. Because the legal position is weak. No one ever restricts the transit, it's like a "sacred cow" of international trade. Therefore, the prospects are absolutely normal. I think by the end of the year the restrictions will be deemed illegal, and after that we expect Russia's actions," said Dougan.
Member countries of the WTO, including Ukraine, on the basis of this decision to impose trade restrictions against Russia. Dougan explained why Ukraine does not currently enforce restrictions on Russian goods.
"A difficult question. We analysed. Was a working group in the Cabinet of Ministers of Ukraine has proposed various measures to restrict Russia. There are two reasons why this was not introduced. First, it would hit consumers in the European Union. The second — again the same, we would have suffered losses. Ukrzaliznytsia would have lost about 80 million dollars a month. In particular, would have suffered loss of Ukrainian automobile carriers. It is most difficult to calculate because they are mainly private. And the third reason — it would weaken our position during the appeal of actions of the Russian Federation to the WTO", – said Dougan.
Meanwhile, Ukraine is increasing its sales of goods to EU countries.
Comments
comments