Ukraine's economy has fallen in the global ranking of innovation Bloomberg. Infographics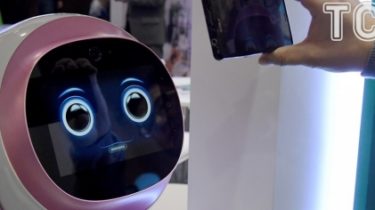 Ukraine's economy has fallen in the global ranking of innovation Bloomberg. Infographics
© Getty Images
Only the top 50 positions of Ukraine on the 42nd place.
In the ranking of the 2017 countries with the most innovative economy Ukraine ranked 42nd place, down one position compared to the previous year.
It was reported by Bloomberg in the article "These Are the World's Most Innovative Economies".
This year, in the first place invariably South Korea, Sweden rose to second place, third place went to Germany (in 2016, was in second place), the fourth is Switzerland, and Finland has closed the top five in 2017.
The publication notes that South Korea tops the ranking with the highest value of expenditure on research and development, patent activity, manufacturing value-added and level of higher education. Thus, it is possible to explain meager performance progress is a 32 position in the world.
Silver medalist Sweden and its neighbour Finland has climbed up the list due to the significant growth of high-tech firms in the country.
The publication writes that the biggest loser among all countries this year was Russia, she has lost 14 positions and was ranked the 26th place. It is noted that it was affected by sanctions and falling energy prices. According to the authors of the rating, last year's solid performance in Russia in the production and performance were destroyed in 2017.
See also: trump, Putin and Erdogan. AFP stunned by the ranking of the most influential people in 2016
In the top ten also included Singapore (6th), Japan (7) Denmark (8). The U.S. fell one position from at the 9th position, while Israel moved up one notch to 10th place.
Poland rose during the year from 23rd to 22nd place, while Hungary with a 30 position rose to 27. Also, Estonia is on the 33rd place, Slovakia – 36, Latvia – 39, Malta – 40, and Kazakhstan with 50 steps rose to 48.
Closes the rating of the 2017 Morocco, which compared with the last year lost two positions.
The Bloomberg innovation index was compiled based on evaluations of the seven indicators: amount of funds as a percentage of GDP that the government spends on research and development; productivity; presence in the economy of high-tech companies; the prevalence of higher education; the added value of goods; the number of registered patents and number of researchers.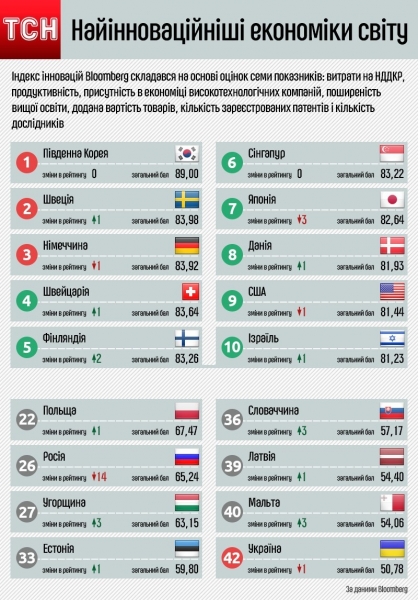 TSN.ua
Recall that the gap between the richest people and the poorest half of the population of the Earth more than it seemed. Eight people, including bill gates and mark Zuckerberg have the same condition as 3.6 billion common people together. This became known from the report, which is published by a nonprofit organization against poverty Oxfam.
As only eight men, mostly Americans, who achieved success in the field of technology. Also among them there are one European and one mexicanese. Some of these rich people have promised to give all his fortune to charity.
Comments
comments