Yanukovych refused to transfer the case from the Pechersk court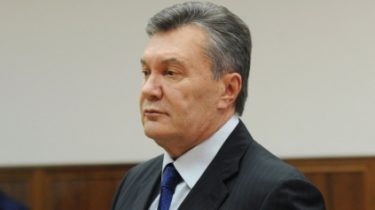 Yanukovych refused to transfer the case from the Pechersk court
© Reuters
The ex-President had to testify in court via video link.
The high specialized court of Ukraine rejected the petition of lawyers ex-the President Victor Yanukovych to postpone consideration of the case of the Pechersk court in any other, the correspondent of TSN.
Protecting the President-the fugitive claimed that the Pechersky court was under pressure.
The meeting was quick, and the decision handed down as many as seven judges. Lawyers petitioned the court allowed questioning of Viktor Yanukovych via viewscreen, but the court refused. The presiding judge argued that nothing would prevent the former President to appear at the proceedings personally.
Recall that on 14 December the Pechersky regional court of Kiev granted permission for the detention of ex-President Viktor Yanukovych and deliver it to the court. Thus, the court satisfied the request of the military Prosecutor Krivenko on permission to detention of Yanukovych, "with the purpose of his reason to participate in the consideration of the petition for application of a preventive measure in the form of detention".
On November 28 Yuriy Lutsenko to Svyatoshynsky district court of Kyiv announced that Viktor Yanukovych declared suspect in treason – the content of the suspicion is declared orally, namely, the notice was sent to all known addresses of the former President. On the same day after reading this suspicions the Military Prosecutor presented his lawyer Igor Fedorenko present in court.
Chief military Prosecutor Anatoly Matios argued that the indictment goes to trial before the end of January, and by the end of April, the court shall announce the verdict.
By TSN correspondent Dmitry Furdak
Comments
comments