The legendary "cyborg" Kuzmin told why Ukraine is unprofitable death Givi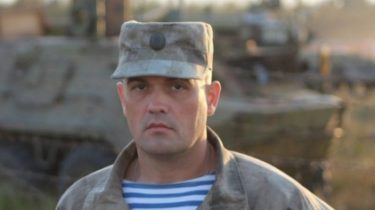 Napping, Brain, Zhilin, Motorola, Bolotov and now Givi. One by one the leaders of the separatists depart to another world. More recently, Mikhail Tolstoy was trying to avenge his friend "Motorola" promised to erase from the face of the earth all the Ukrainian city of Kiev up to. The audience called the commander of the 93rd brigade of the Armed forces of Ukraine and threatened that his battalion of the strongest.
There are almost no left of video frames with the Givi, where he fights, but there are many videos where he is surrounded by a dozen cameras gives instructions to subordinates, parades parades celebrating birthday. The leader of the so-called "DNR" Zakharchenko has said Givi destroyed Ukrainian subversive group. Colonel Oleg Kuzminykh, over which mocked Givi in the Donetsk airport, denies this. The commander of "Somalia" was not too smart, ambitious, and knew a lot. Ukraine, he needed alive.
"Some of the military potential he had, the threat of some kind, not a brilliant commander, he was needed more as a witness," said Oleg Kuzmin.
See also:
Reduced to zero shot of Bumblebee. Selection fotozhab murder Thriller Givi
Flamethrower "bumblebee", which, according to preliminary findings, and killed the gunman, shoots powerfully, but precisely only 500-600 meters. For this it was necessary to infiltrate the base of the militants in Donetsk, which is well guarded. Oleg Kuzmin believes that Givi was removed by his subordinates, retaliated for what he Avdiyivka almost sent to slaughter almost his entire gang.
"His battalion suffered heavy losses under the plant, plus the fact that he earned his wound, he completely lost the confidence of his battalion, his people, why it happened on its own, surrounded by their people properly," adds Kuzmin.
To eliminate Givi could Zakharchenko. Too Mikhail Tolstoy wanted to be an independent figure in the so-called "DNR", assures the coordinator of "Information resistance" Dmitry Tymchuk. And wanted money, which he gave less.
"Personal conflict was based on the fact that Thick, Mr Givi, had an irrepressible desire to demonstrate independence from Zakharchenko, but one of the main goals was loyalty to the Kremlin curators, to get help directly on your gang "Somalia" and distribute it", – said Dmitry Tymchuk.
See also:
Appeared the first photos and video of the destruction of the militants "Givi"
Givi and Motorola in weeks not descended from the screens of Russian television. Such a fun soldiers of fortune. After the death of Motorola Givi admitted that he misses his friend. Givi, and Motorola has to comply with the Minsk agreement. They already don't shoot.
We will remind that Mikhail Tolstoy, nicknamed "Givi", a native of Ilovaysk. In 1998-2000 he served in the Armed forces of Ukraine. In 2014 he changed the oath. Fought on the side of the invaders in Slavyansk, Ilovaisk, in the Donetsk airport.
Today it was reported that the militant killed in his office.
Comments
comments