Groisman wants Ukraine together with Moldova controlled checkpoints on the border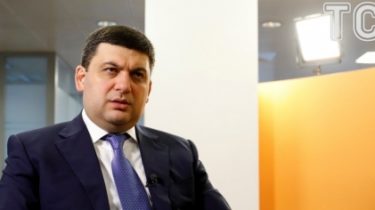 Ukraine is interested in joint control over Moldova at border-crossing points on the border between the two countries.
This was stated by Prime Minister Vladimir Groisman during a meeting with Prime Minister of the Republic of Moldova Pavel Filip.
"We are interested in that, prior to the end of this year to open in the crossings of the border overall design, joint control and including, of course, Kuchurgan-Pervomaysk, which is a very important checkpoint," – he stressed.
Until the end of the year we will work out joint control at border points. First: Pervomaysk – Kuchurgan and on two counts.
— Volodymyr Groysman (@VGroysman) 13 Feb 2017
According to Groisman, the great achievement of cooperation with Moldovan counterpart will be a joint control of two checkpoints.
"I would like to be instructed to commence work on the preparation of draft Protocol on two checkpoints where we can initiate joint control – Beacons-Convenient Palanka and Reni-giurgiuleşti", – said the head of Ukrainian government.
We will remind, earlier the Ukrainian-Hungarian border, earned the first joint contact point "záhony". Contact center the first week functioned in test mode.
Comments
comments