"Resuscitation" did not help. The DGF proposes to completely eliminate the "platinum Bank"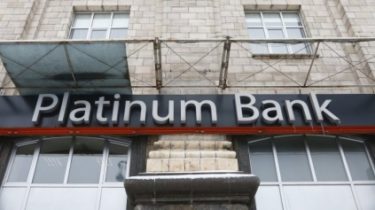 The Deposit guarantee Fund of individuals ' deposits after the audit in insolvent commercial "platinum Bank" stated that "resuscitation", it will not help and asked the Bank to eliminate it completely.
Revoke the license can February 24.
The Fund has temporarily suspended payments to depositors of "platinum Bank" – because of the commencement of the liquidation and the need for changes in the General register of depositors.
See also:
Over the past five years the depositors of failed banks returned more than 80 billion
"Payment of the guaranteed amount of compensation during the liquidation period will begin no later than March 1, 2017. They will be carried out in accordance with the law, that is, regardless of the date of expiry of the Deposit agreement. About the payment procedure will be announced later", – stated in the message of the DGF.
Before that, the Fund has exposed on sale "Platinum Bank", but a buyer was not found on him.
Note that as of 11 January 2017 on the balance sheet of financial institutions was of 7.43 billion. The lion's share of the assets accounted for loans to legal entities carrying value of UAH 2.8 bn, loans to individuals by 3.02 billion. Liabilities – deposits of physical persons in UAH 5.4 billion, including a guarantee of the Fund was 4.9 billion UAH.
Recall that depositors of the bankrupt banks will return the money under the new rules.
Comments
comments