In the Kremlin commented on the possible recognition of a terrorist "LDNR"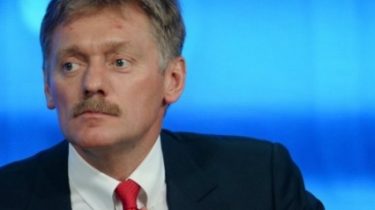 The Kremlin has called inappropriate and unacceptable any speculations about the possibility of Russia's recognition of the terrorist "DNR" and "LNR".
This was stated press Secretary of the President Dmitry Peskov, Interfax reports.
"A question, frankly, is incorrect, because in this situation, some virtual arguments are absolutely irrelevant and inapplicable. While the de facto situation is that the two breakaway republics, the DNI and the LC, are areas that are really not recognized by the Russian Federation and they are not recognized by Ukraine. But they are in severe blockade by Ukraine," said Sands, answering the question of under what circumstances Russia could recognize the "Republic" and to what extent.
See also:
SBU predicts the freezing of the project "people's republics" in a few months
According to the representative of the Kremlin, the life of the Donbas population "unbearable" because of the disconnect from social and credit security.
"And that, for humanitarian reasons, it was decided actually issued the documents," he said.
See also:
Disturbing the solution. How the world reacted to Russia's recognition of the passports of "LNR" and "DNR"
Recall, Russian President Vladimir Putin signed a decree on the legalization on the territory of the country of documents issued by illegitimate organizations in ARDLA. In social networks already joking on this, calling the basis for the official recognition of "passports" so-called "DNR" and "LNR" of the present publisher – FSB Russia.
Recognition of documents issued in some areas of Lugansk and Donetsk regions of Ukraine that are not controlled by the government, is nothing other than the legalization of terrorist groups in the political sphere of the Russian Federation. Commented on the decree of the President of Russia Vladimir Putin, Secretary of national security Council and defense of Ukraine Oleksandr Turchynov.
The Kremlin said that the recognition of passports ORDO not violate international law. Peskov also said that the move "does not violate the Minsk agreement" and that "there is no reason for the aggravation of the situation".
This Peskov said that the signing of the decree was motivated by "purely humanitarian reasons".
President Petro Poroshenko said in response that while recognizing the "passport", "DNR" and "LNR", Russia's President Vladimir Putin once again confirmed that the occupation of Donbass under the control of the militants-separatists, and the Kremlin directly.
Comments
comments