The Ministry of foreign Affairs of Ukraine caught in the wrong office Lavrov regarding the death Churkin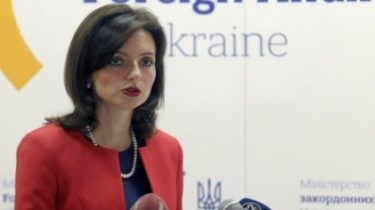 The Ministry of foreign Affairs of Ukraine has refuted the statement of the propaganda of the Kremlin, which is not true.
The Russian delegation in the UN security Council wanted President Vladimir Yelchenko adopted draft political Declaration of the death of the Russian Ambassador to the UN Vitaly Churkin, however, in the end, the security Council was limited by the traditional in such cases a statement to the press, told Liga.net the press attache of the Ministry of foreign Affairs Marian Betz.
It should be noted that the Russian foreign Ministry considered that "Ukraine has blocked the UN statement about the death of" Churkin and the speaker of the Russian foreign Ministry Maria Zakharova in Facebook wrote that "the Ukrainian side nothing good can not do, only all spoils".
"There was a bit of a different situation. The Russians wanted a separate draft presidential statement of the UN security Council regarding the death of their Ambassador," said Betz.
See also:
"Bendera and Shushkevich" and "the Syrian children who sprinkle dust": the most offensive quotes Churkin
According to her, these precedents "it never happened", because in the end, a statement was made of the security Council about the death Churkin to the media.
"We haven't blocked, just made a statement to the media – as has been done in such instances earlier. Such cases were not so much… However, the precedents of a separate policy statement was never," added Betz.
We will remind that on 20 February in new York, died the permanent representative of Russia to the UN Vitaly Churkin. It is noted that the Russian diplomat departed this life at work in office, but on the causes of death Churkin not reported.
After this, Russia broke the news that Ukraine had allegedly blocked the adoption of a special Declaration to commemorate the permanent representative of Russia Vitaly Churkin at the UN.
Russian foreign Minister Sergei Lavrov said that Kiev's actions are "beyond good and evil."
See also:
The Russian foreign Ministry commented on the sudden death Churkin
"Almost no doubt that the Ambassador in such a trick would not have dared, so he was told. This, of course, is not Christian, it is beyond good and evil. But the current Ukrainian government taught us that this is what someone in their country belongs to the Russian, including those who do not wish to dance to the tune of neo-Nazis," said Lavrov.
In turn, the press Secretary of the President of Russia Dmitry Peskov has responded to the decision of Kiev with the words "God will judge them".
Comments
comments