In Kiev patrol detained an aggressive judge, who blocked the alley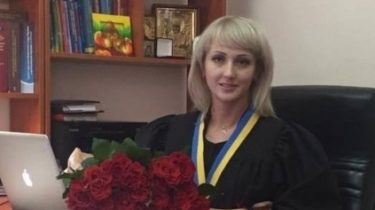 Kiev police detained the judge that blocked his car travel in the street.
About this on his page in Facebook wrote the head of the Department of the interior Ministry patrol Evgeny Zhukov.
"At first, "Holy Victoria" asked pit the car. And not only employees, but also drivers of other cars. But, despite this, at the same hour, joined the "fool" – I'm not me, not my car, I'm not a driver, I "Pascal", the husband will come, etc. All this was accompanied by calls to the Prosecutor General. In fact, there and started calling in the Office of the patrol police: "What where!?", – writes Zhukov.
As a result, according to the head of the Department of patrol service of the interior Ministry, after repeated requests to show any documents, the judge was detained.
Later, according to Zhukov, "came the drunk "friend" and far from him the stragglers friend (perhaps, too, the judge)".
"Well, there's a video there: "Rogue, you for 8 thousand mother to sell." So here I think the highest caste of judges on patrol police… Well, as always, is guilty of a simple patrol, which, as they say, from farm ponabirali. Yes, we farm, but I want to live and work honestly," he wrote.
Head of Department patrol also noted that the police will be punished for something that did not make materials for detention to end. However, "unfortunately, they can incur criminal liability for abuse".
Victoria itself Kitsyuk posted on his page in Facebook video of detention and the documents on the removal of a beating.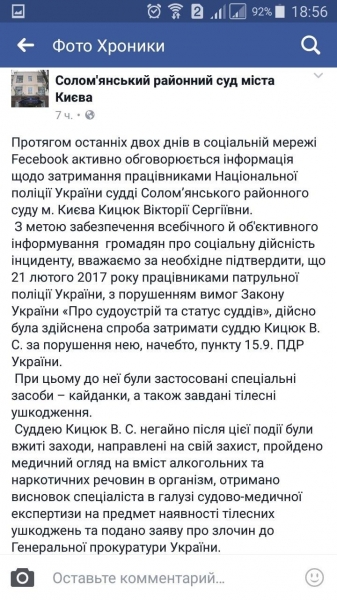 facebook.com/Позывной Marshal
In turn, the Council of judges of Ukraine has expressed his deep indignation at the actions of the National police related to the unlawful attempted arrest of a judge of the solomiansky district court of Kyiv to Victoria Kitsyuk and sent a letter to the leadership of the security forces.
The judge held anti-terrorist operation, Alexander mamaluy also criticized the actions of Kyiv patrol had detained for a traffic violation the judge Kitsyuk Victoria.
"What patrol did not like the way you talk to them — the tone and manner of communication, does not give them any right to put people in handcuffs", — he wrote in his Facebook.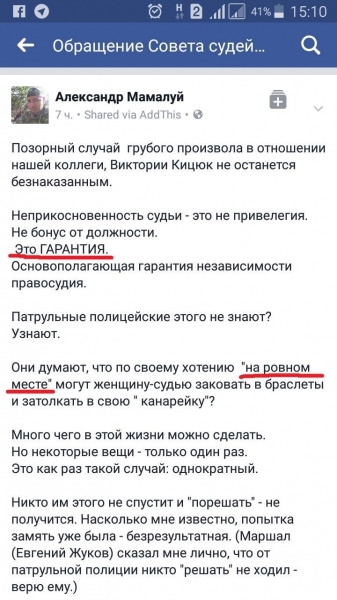 facebook.com/Позывной Marshal
Comments
comments