For dispersal of the Maidan in 2014, MIA has purchased special equipment in Russia for more than a million hryvnia – GPU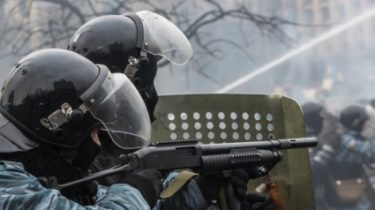 The Prosecutor General's office found that the Ukrainian interior Ministry has purchased in Russia lethal weapons to disperse activists of the Maidan in 2014.
This is with reference to the definition of the Pechersk district court of Kyiv on February 14, according to "Ukrainian news".
As noted, the GPU is established that in January-February 2014 Ministry of internal Affairs of Ukraine received from Russia a special tool: manual aerosol grenades increased capacity and safety of RGR ("Roll BB"), manual aerosol grenades RG 60АЗ ("Дрейф2") , hand grenades white smoke RDG-2B, grenades fixed installations "Flame-M", manual stun grenades "Torch" and hand the stun grenades "dawn 2".
According to investigators, special equipment was delivered in the absence of requests for assistance under the agreement on cooperation between the Ministry of internal Affairs of Ukraine and Ministry of internal Affairs of the Russian Federation and in the absence of grounds for payment of 1.2 million for customs clearance.
At the same time, it is noted that the basis for the organization of the steel supply reports, letters, resolutions, and distribution of special tools, approved by the Ministry of internal Affairs of Ukraine. Among them, added the GPU, was the report on behalf of the chief of the public security Department, the General-the Lieutenant of militia Alexey Krikun from 24 January 2014.
In addition, the court has satisfied the petition of Prosecutor's office for permission to withdraw from the interior Ministry report on behalf of the Screamer on the acquisition of special equipment with a letter of resolution to the Deputy Minister of internal Affairs Victor Ratushnyak, a letter of resolution of the Deputy chief of Department of resources of Department of material security of the Ministry of interior Stanislav Rat.

Comments
comments