People's deputies of Ukraine drank champagne with the well-known ukrainophobe at the OSCE summit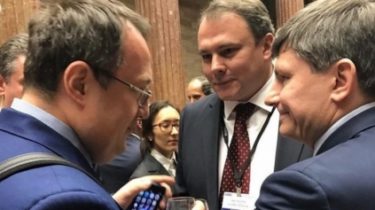 Members of the Ukrainian delegation – the President's representative in Parliament Artur Gerasimov and Advisor to the interior Minister, MP Anton Gerashchenko after the end of the session of the OSCE parliamentary Assembly in Vienna talked over a glass of champagne with the notorious ukrainophobe, Vice-speaker of the state Duma of the seventh convocation Peter Tolstoy.
The corresponding photo published on his page in Facebook Russian politician.
In addition, he noted that the Russian side "is completely ready and is always open to dialogue to end the bloodshed in the Donbass and the implementation of the Minsk agreements".
"What can help our neighbors," he wrote.
In turn Gerashchenko comments Dnia explained that, after meeting with Russian Vice-speaker, he called him a criminal and showed Tolstoy his account in the database of the site "Peacemaker".
"They are the members of the delegation to the OSCE parliamentary Assembly, the State Duma. We Gerasimov from Rada. I Arthur Gerasimov during the official reception on the occasion of the OSCE summit in Vienna, said the Vice-speaker of the state Duma fat that Crimea will have to return and withdraw its troops from Donbass", – he assured.
Also Gerashchenko said that Tolstoy warned that he is banned entry in Ukraine for his anti-Ukrainian propaganda activities.
"But in it is empty as a drum. The new convocation of the Duma is faithful Putintsev without a brain," – said Ukrainian MP.
Note, as quoted by the press service of Tolstoy, following the session of the OSCE PA, he said that Russia emerged from isolation.
"In less than two days we have heard a lot of opinions about Russia and possible further development of relations. But it is safe to say that our country came out of isolation, we want to engage in dialogue and seek solutions to common problems – from combating global terrorism to establish bilateral relations", – said Vice-speaker of the Duma.
However, Tolstoy stressed that "as long as someone will continue to talk about "Russian aggression", we will establish a dialogue of the important issues with other countries," and added that "with Russia we have to reckon".
Earlier, Tolstoy scandal after answering a question about the upcoming "friendly policy towards Bulgaria", said: "of Course. We'll just buy it all". Then the official Sofia demanded an apology from the newly elected United Russia deputies of the state Duma illegitimate.
In addition, previously, the then presenter Peter Tolstoy propaganda rage called Ukraine a "leg of Russia". "We care not only about the Donetsk and Lugansk. We care about the whole country. And we will always worry, because Ukraine is not as you believe our kind of wife. This is our leg," he said.
Comments
comments