The exchange of prisoners in the Donbass can not be, as the separatists did not have the will.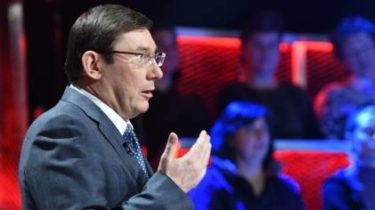 The exchange of prisoners with the militants is not carried out at the fault of militants, however, to make this possible, suspects from the occupied territories are under investigative detention without charge.
This was stated by Prosecutor General Yury Lutsenko in interview to the German magazine "Bild".
See also:
"They have to admit guilt": Lutsenko rejected the possibility of a General Amnesty for militants in the Donbas
"We have already experienced several successful waves of exchange of prisoners. This is no longer happening. We have a list, but because of the lack of will on the part of the separatists exchange may not take place", – said Lutsenko.
Commenting on paragraph 6 of the Minsk agreements on the settlement of the situation in the East of Ukraine, which requires the release and exchange of all hostages and detained persons, he said, "the Problem is the following: if I want to transfer the person to the other party, in respect of whom an investigation, I must first close the proceedings. Persons who have been condemned, may be pardoned, then exchanged. But if the exchange will not happen neither tomorrow, nor in a week nor in a month, we have a problem, because we can neither deny him nor hold him."
See also:
Lutsenko explained the conflict of the GPU and the NEB: the Bureau has insufficient resources to investigate our Affairs
"If we don't know when the separatists will agree to exchange, and we have six months to wait for it I have every time to open the case. Received daily calls, they say, are preparing an exchange, and every day I have to close and then reopen the case. If I have a guarantee that the exchange will take place then, and then, I'll do it. But if will carry, the person will continue to be in a gray area," — said Lutsenko.
That is, according to the attorney General, is the explanation of what people held in pre-trial investigation without the laying of charges. However, he noted that they can visit relatives, they have the right to receive gifts and go out for a walk.
"We can't say the same thing about our people being held by the separatists", — said the Prosecutor General.
See also:
Shortly before the murder Boronenkov his killer was a visit to the occupied Donetsk.
According to Lutsenko, with a view to future exchange without charge currently held about 100 people.
The head of the GPU stressed that the issue of exchange of prisoners is not a political issue, and practical, but noted that he was "used by the Kremlin as a political weapon."
We will remind, Yury Lutsenko said that a General Amnesty to militants who participated in the conflict in the Donbass, Ukraine will not provide and each case will be considered separately in court.
Comments
comments