Reform and gratitude. Poroshenko and Lagarde discussed the selection tranche of the IMF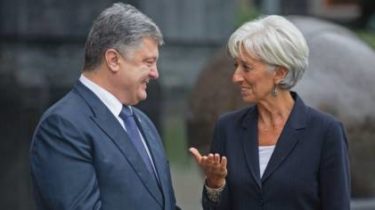 President of Ukraine Petro Poroshenko on the phone and talked to the managing Director of the IMF Christine Lagarde.
About it informs the website of the President.
He thanked the managing Director of the IMF for its contribution to a positive decision on the allocation of Ukraine the next tranche of the International monetary Fund in the amount of 1 billion US dollars.
Petro Poroshenko and Christine Lagarde discussed the state of implementation of structural reforms, in particular judicial reform, strengthening the fight against corruption and tax reform. Christine Lagarde reiterated its support for the efforts of government at ensuring macro-financial stability of the state and further progress of Ukraine on the reforms needed.
Also the managing Director of the IMF noted the work of the Chairman of the National Bank of Ukraine Valeria Gontareva and its contribution to effective cooperation with international financial organizations.
Christine Lagarde also welcomed the launch in Ukraine of the open electronic register of VAT refunds.
See also:
Danyluk hopes for a new tranche of the IMF in may
Recall that the International monetary Fund believes that the Ukrainian economy began to grow again, and the government of Ukraine is pursuing a balanced macroeconomic policy. But Ukraine needs to implement reforms to improve the business environment and attract investment.
Comments
comments