The Cabinet proposed to Parliament to terminate the Soviet laws on the territory of Ukraine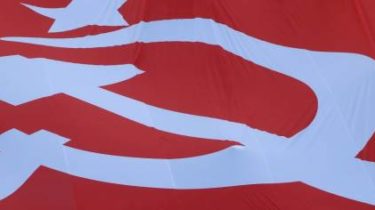 The Cabinet of Ministers of Ukraine approved the draft law acts of public authorities and management of the Ukrainian SSR and the Soviet Union are losing their power.
The bill was presented by the Minister of justice Pavel Petrenko today, April 12, at the government meeting.
"At the request of the Prime Minister of Ukraine, the Ministry of justice has developed and I want to present a draft law on the recognition such that it will lose the power of acts of bodies of state power and administration of the Ukrainian SSR and the Soviet Union," he said.
See also:
In the river dekommunizirovali female breast "revolution"
According to the Minister, this document defines clear rules that stop the action of a large array of normative acts of the Soviet Union and the Ukrainian SSR, "which we now have as baggage."
"We are talking about hundreds of such acts… it is Proposed (the bill) to introduce a rule that specifies that you lose the effect of all those regulations that were adopted before the independence day of Ukraine. We set the next steps within six months from the date of entry into force of this act cease to have effect all the regulations of the ministries, departments, commissions, bureaux, which were adopted before Ukraine became independent. The second provision of this bill within one year of the entry into force of this act, terminate all of the laws of the USSR and the Soviet Union are now operating in the territory of Ukraine. And third position for three years after the entry into force of this law, terminate all codified acts of the USSR, which today still act on the territory of Ukraine", – added Petrenko.
See also:
Renamed 32 cities, dismantled more than a thousand "Lenin". The outcome is a Pyrrhic victory for 2016
The justice Minister also urged the deputies to adopt the law in may.
We will remind, already more than half a year in Ukraine continues the reform policy of national memory, which is better known under the name of "decommunization". According to the Chairman of the Ukrainian Institute of national memory Vladimir Vyatrovich, decommunization in Ukraine is 90% done. This is also evident from the data obtained in the course of social studies, the press service of the Institute.
According to the first official results of renaming and dismantling, only in the public space of Ukraine there were 52 480 new titles: 51493 street and 987 settlements. Also, during this time, dismantled 2389 monuments, of which 1320 "Lenin".
Comments
comments