Became known the details of the meeting Lavrov and Tillerson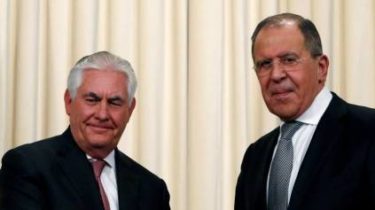 The Russian foreign Minister Sergei Lavrov and U.S. Secretary of state Rex Tillerson during yesterday's meeting discussed the airstrike, the US military base in Syria.
About it reports Interfax with reference to the statement by Lavrov during the meeting with heads of representative offices of foreign Affairs in the constituent entities of the Russian Federation.
"Yesterday we discussed the necessity of intensifying the Russian-American efforts to mobilize the international community to fight against terrorism and recalled that US actions such as strikes on Syria, April 7 contrary to this task," – said Lavrov.
The Russian foreign Minister stressed that Russia will not support the draft resolution in the UN security Council, which condemns Damascus for the chemical attack in Idlib.
"Attempts on the sly, without any inspections adopt a resolution of the UN security Council with unfounded condemnation of the government (of Syria), we, these attempts can not support and will not support them", – said Russian official.
See also:
Trump doubts that Russia did not know about the use of chemical weapons in Syria
Comments
comments