MP Savchenko after a car collision promised grandma the cabbage and the "freeze"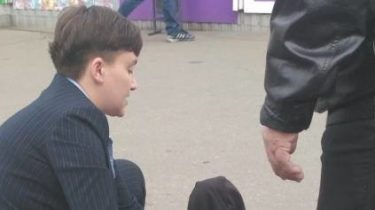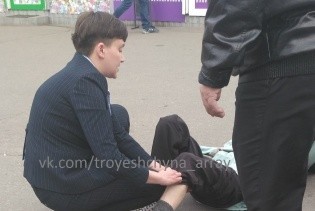 Today, April 13, in Kiev on the street Dreiser, 4, car of people's Deputy Hope Savchenko, at the wheel which was her sister, Faith, was hit by an elderly woman.
Nadezhda Savchenko got out of the car and gave the woman first aid: inspected the knee and treated it with spray freeze from injuries and bandaged. The sisters waited for the ambulance and handed the woman the doctors.
The witness of the accident Xenia, said Dniathat the MP promised to the grandmother to buy cabbage and frozen food.
"I went out at 9 o'clock from work. There was already one accident, everyone looked there. Rotate the view and see how the car backs up and falls Granny. She has a dislocated leg, she literally was curved in the opposite direction. I called the ambulance and another guy. At this time, a woman came out from the car, I didn't know who she is. Touched the leg, I was afraid to do something because my grandma really yelled. She stilled at the words, to shock it can manage. No first aid was not rendered, the more "frozen", – said the eyewitness.
See also:
Sister Savchenko told the details of a traffic accident in which hit along with Hope
She also added that the MP Savchenko stroking her leg, lifted his pant leg to look at her.
"That's all she did. Then we brought the woman a chair, and seated," added Xenia.
According to her, the woman was persuaded to go to the hospital, to which she said "nasho meni soon give pennies".
She explained that she can pay a lot less than the cost of the treatment and that she was going to the hospital and waited for results. On this an elderly woman began to scream that she will stand in line for a pension on this leg that Savchenko has promised that she will retire out of the lineup.
The people's Deputy Hope Savchenko also told my grandma that he would buy her a cabbage.
"We'll buy a cabbage, mi will give you the "freeze". I'll show you how to do it. You don't need will be the cabbage, you will have the best remedy. Now sister will buy", – said the Deputy.
Comments
comments