Lavrov, Safronkov and Mushrooms. TSN has turned it into a song performance of Russia in the UN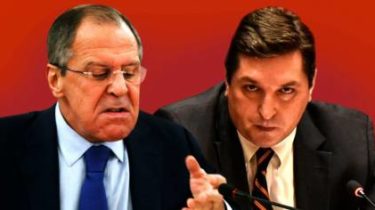 TSN.ia decided to join the wave of jokes and demotivators on the Deputy permanent representative of Russia to the UN Vladimir Safronkov that social media users have dubbed it as "the mugger".
See also:
"Gopnik at the UN": the Network has ridiculed the Russian Ambassador, obrusevshih British colleges
Hard emotional official statements we shuffled scandalous quotes of the foreign Minister of Russia Sergey Lavrov and put it all to music popular in the Network of the track "Melting ice" band "Mushrooms". Here's what happened:
We will remind, Safronov fell during the session of the UN Security Council, which considered a new resolution on Syria. During the debate the UK representative Matthew Rycroft said that Russia abuses its veto, maintaining the regime of Syrian President Bashar al-Assad and his army use chemical weapons.
It Safronkov said that Britain feared that Russia and the U.S. can cooperate. In the process of the monologue, the Russian Ambassador went on "you".
"Are you afraid, lost sleep, that we will cooperate with the United States. You're afraid of. All done to ensure that this interaction was undermined… Look at me, eye don't, you're eyes take?" — Safronkov said, referring to Raycroft.
Comments
comments