"She's sensitive to the truth and comes up with nonsense": Groisman said Tymoshenko in the "big pimple"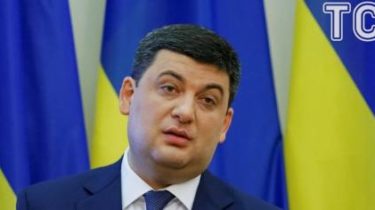 Prime Minister of Ukraine Volodymyr Groysman considers the statements of the leader of "Batkivshchyna" Yulia Tymoshenko in his address of the "painful reaction" and "nonsense". He commented on the statement of a political opponent during his working trip to Kirovohrad oblast, the correspondent of TSN.
"She's just very sensitive to the truth and, in principle, invent all kinds of nonsense in response. I don't want to hurt her as a person, as a woman especially, but I can say that the opinion it expressed. I think that it is a lot of trouble brought to our country and believe that she is a politician of the past and allows himself to just cynically lying to the people in the eye. I believe and I always have to say it, if she's lying – I will say that Julia is lying," – said the Prime Minister.
Groisman said that Tymoshenko inconsistent and changing depending on if they belong to the opposition or to the government. Besides the Prime Minister said that about "the transfer of Tymoshenko to "Gazprom" debt" wasn't kidding.
"I really think that the Ukrainian politicians, some Ukrainian politicians have a dark inner world. They sharpened negativity, aggression, bullying, depression, anything else. I believe that it is a crime against the Ukrainian citizens. We must learn to call things by their names, but those who are in politics for 20 years, those who had once chance to change the country and did not, believe me never in my life will not make it", – concluded the head of government.
Complete response Volodymyr Groysman, see the video:
Comments
comments