Trust and history. In the state Department told me what he was talking about Putin and Tillerson in Moscow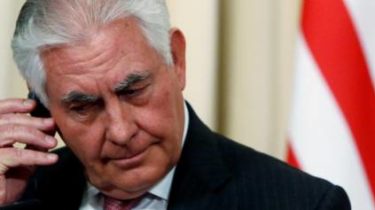 It became known what he was talking about U.S. Secretary of state Rex Tillerson in Moscow with Russian President Vladimir Putin.
This was announced by the acting representative of US State Department mark Toner, says UKRINFORM.
"The parties acknowledged that the level of trust between our States have reached a historically low level," – said the official representative of the state Department.
Like, during a conversation Tillerson and Putin "discussed the story of why it happened."
According to Toner, both of them trying to better understand why each of the States is irritated by the actions of another in certain areas.
"I can say that the Ukrainian question was certainly raised at a bilateral meeting with foreign Minister Lavrov. I don't have all the details of the meeting with President Putin," said Toner, mention discussed the Ukrainian issue during the meeting.
Tillerson is very clearly voiced its position on Ukraine after meeting in Moscow.
The representative of the foreign Department of the USA also noted that the Secretary of state Tillerson and Minister Lavrov agreed to keep in touch by phone. About following a personal meeting between the heads of the foreign agencies is not noted.. representative of the US State Department.
See also:
Tillerson's visit to Moscow has shown that Russia cannot be trusted — Klimkin
We will remind, it became known that pagreed Tillerson, Lavrov and Putin in Moscow. U.S. Secretary of state Rex Tillerson said that the situation in Ukraine will remain an obstacle to improving relations between the United States and Russia, while Moscow does not comply fully with the Minsk agreement.
According to Tillerson, Russia can make progress in the implementation of the Minsk way of de-escalation of violence and take measures for discharging the separatists heavy weapons to the OSCE observers could do their part. Lavrov in turn said that during the talks with his American counterpart they came to a common position that "the Minsk agreement in 2015 should be implemented."
The Russian foreign Minister said that Moscow is ready to discuss with Washington the way of implementation of the Minsk agreements in addition to the "channel four".
Comments
comments