Turchynov put the military task meter by meter move to the East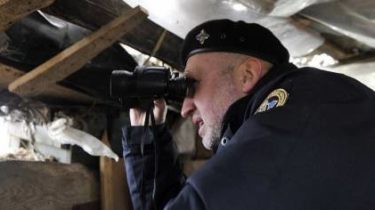 The Secretary of national security and defense of Ukraine Oleksandr Turchynov, who on 14 April 2014, being the acting President of Ukraine, signed a decree about the beginning of antiterrorist operation in the East of the country, States that would do everything the same way, knowing now about the results, he said in an interview with the BBC.
"I many times analyzed the situation, replaying the events in my head again and again, thinking what else can be done. I don't know. I think I would have passed this way again. Because you can do a lot when you have the appropriate tools. When you have shelves, you can be a commander. And when you have nothing, and there is only a huge responsibility, then the options are not many," said he, answering the question of whether he would act differently knowing the results of the decisions taken in the spring of 2014.
See also:
At the headquarters of ATO showed the consequences of the merciless shelling of neighborhoods Novotroitsk
Anticipating the completion of the ATO, the NSDC Secretary added: "we Have no other alternative but to win. Last year was the first when we didn't give up any meter of the earth, and Vice versa – has received tens of kilometers. Therefore, I believe that our task is a meter by meter, mile after mile, while minimizing losses, to move to the East. The main thing – do not slip through the border (laughs)".
We will remind, with the beginning of this year in the area of ATO killed 69 members of the Armed forces of Ukraine.
With more than 420 were injured. Such numbers are called Petro Poroshenko, reports the press service of the President of Ukraine. He also said that, in General, during the ATO killed 2652 Ukrainian servicemen of various power structures.
Comments
comments