Wife of 25 years grows bread. Matios said where he got the Rolex and other gifts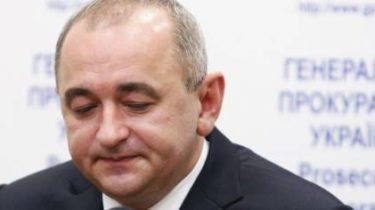 Chief military Prosecutor Anatoly Matios in an interview to "the Ukrainian truth" was told about luxury watches and other valuables gives him a wife, with whom he decorated the marriage contract.
The journalist drew attention to the shoes Louis Vuitton military Prosecutor and a Rolex watch.
"My wife gave me for my 40th birthday," – said Matios about the valuable accessory. Shoes he called the product a "Ukrainian fashion brand "Lutsk-Volyn".
See also:
I didn't dopustila to confess: Matios refused to explain why he came to Nasirov
Answering the question about what the wife and how to make such gifts Matios said that his second wife "25 years of growing bread."
"Grows, stores, and sells grain: corn, soy, on leased fields in the Kherson region. She has 600 employees. And I have no relationship to its assets," – said the chief military Prosecutor.
According to him, he does not claim the status of wife under the terms of contract between the marriage contract.
As previously reported, the chief military Prosecutor of Ukraine Anatoly Matios declared a gift from my wife cost almost 700 thousand hryvnias.
Also in return for the 2015 Matios stated shared with his wife Irina, Bars property – revenues from state of emergency "Poliekspo" and "Empire". Founder and beneficial owner of both companies is the wife of the military Prosecutor.
Comments
comments