Matios said what worked in the Yanukovych administration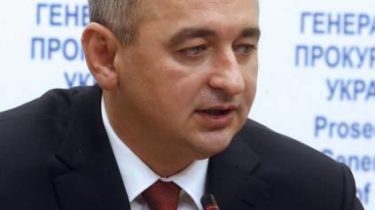 The chief military Prosecutor of Ukraine Anatoly Matios told what was involved in the administration of ex-President Viktor Yanukovych.
In particular, according to the order of the former head of the SBU Valery Khoroshkovsky, in 2011 he was sent to the presidential Administration, he said in an interview to Ukrainian truth.
"Since 2008 I've been an officer of the security Service of Ukraine. To date, the legislation provides for the institution of active reserve officers, seconded to other government agencies. The person who signed the military contract, must execute the order. According to the order of the head of the SBU Khoroshkovsky, I was seconded to the presidential Administration", – he said.
See also:
Matios declared a gift from the wife worth 700 thousand UAH
The unit, which worked Matios, called the "Main control". According to him, it was engaged in check of execution of decrees and orders of the President.
"All acts, the preparation of which I was involved, was accepted komissionno. And I feel for each signature, which then put. The head of Department at that time was the adviser of the President Anatoly Baluk", – said Matios.
In addition, he added that in December 2013–January 2014, with the arrival of the new head of the Administration Klyuyev, he was forced to go into hiding, because "first, what did the Klyuyev is sacked me from office and sent back to SBU. I was there waiting with handcuffs, so I returned to Vladimir, and was hiding in the center of the city."
See also:
Wife of 25 years grows bread. Matios said where he got the Rolex and other gifts
Matios added that his brother during the revolution of Dignity was one of the commandants of the Conservatory.
In turn, the question concerning the words of the former Deputy head of AP Andrey Portnov, who told the media that during Euromaidan Matios controlled carrying out orders from Yanukovych law enforcement bodies, the chief Prosecutor replied, "I don't want to comment on the words of a lawyer, everyone has their right to rule or the right to the truth"
"In the President's Administration so far is the Department of interaction with law enforcement authorities and Main control Department. These are two different things. For law enforcement following the Prosecutor General's office. And what happened then, is a consequence of the neglect of the state authorities – the Prosecutor's office – nadruby violations of the law, which applies to all citizens of Ukraine. Both the one and the other," – said Matios.
Recall that in the hospital "Feofania" chief military Prosecutor Anatoly Matios visited my cousin, who was in the next room with the suspended head of the DFS Roman Nasirov. Matios admitted that he hadn't wanted to explain where she was going, as much worried as the sisters.
Comments
comments