Kyiv city Council has banned outdoor advertising in the capital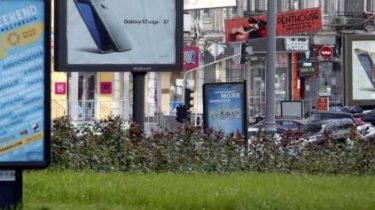 Kiev city Council approved a new concept of development of outdoor advertising, which greatly limit the placement of outdoor advertising in the capital and has banned the advertisement in the historical centre of the capital.
For a decision voted 85 deputies. It must still be signed by the mayor Vitaly Klitschko, reports the BBC.
Note that the new rules provide for the separation of Kiev in the five zones – from zero in the center of the city where advertising is virtually banned.
"Zero zone – free of advertising, advertising vehicles prohibited", – stated in the document.
See also:
In the Kiev metro plans to reduce the amount of advertising and open a gift shop
In the zero zone got the main Central streets, squares and parks, also to this area have included a number of junctions in the capital.
In particular, the advertising will not be within the buffer zone of the reserve Kiev-Pechersk Lavra, near the St. Sophia Cathedral, Andriyivskyy descent, the streets of Vladimir, Bogdan Khmelnitsky, Hrushevsky, the Upper and Lower shafts, Large Zhytomyr street, Lysenko, Yaroslav Val, Sophia and Mykhailivska squares.
Advertising also should not be on the streets and Bankova, pool, Lipsky, Zip, contract and European areas, and many others.
See also:
In Kiev unknown gangster has dealt with the utilities, who dismantled illegal advertising
The list also included a number of streets away from the centre of the city, particularly the Boulevard of the Supreme Council, Rusanovskiy Bulvar and some others.
Exceptions to the ban are advertising on the facade area not exceeding 3 square metres, banner or panel on forests or facades and announcement posts.
See also:
Ukrainian roads will be removed road signs with advertising
Advertising will be dismantled gradually after the expiry of permits issued for outdoor advertising.
It is planned that for several years in Kiev should disappear 75% of outdoor advertising in the Central part of the city.
Recall that today, April 20, the city Council on first reading voted for the draft decision on the use of the Ukrainian language in the service sector in the capital.
The document proposes to establish that in Kiev all advertisements, signs, posters, billboards, messages, and other forms of audio and visual advertising must be written in Ukrainian or another language, with mandatory translation or transliteration.
Comments
comments