Putin spoke about the choice of his successor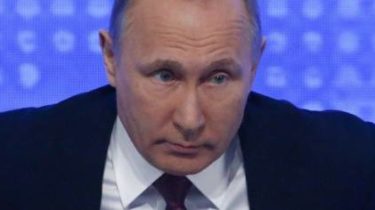 Russian President Vladimir Putin said that the successor of the head of state can only define the Russian people through democratic elections.
This he said at a meeting of the organizational Committee "Victory", RIA Novosti reported.
"The successor of the President only defines the Russian people, through democratic elections, and no one else," – said Putin.
It is noted that during the meeting the representative of the Russian organization of disabled war in Afghanistan complained to the President of the Russian Federation numerous complaints and the organization of inspections by Senator Franz Klintsevich, who in his letter stated the speaker "of the state Duma" Vyacheslav Volodin as the successor to the President.
Putin promised to understand in this conflict.
See also:
Putin told, what should be his successor
Recall, the illegitimate, the Russian state Duma in the first reading endorsed the postponement of elections of the President in 2018, on the day of the annexation of Crimea on 18 March.
The illegitimate speaker of the state Duma Vyacheslav Volodin supported the idea to hold the elections of the President of Russia in 2018, 18 March — the day of signing between Russian President Vladimir Putin and his Crimean puppets of the so-called "Treaty on accession of Crimea to Russia". The Kremlin said that considering the initiative to postpone the election of the President of Russia in 2018 on March 18.
Earlier media wrote that Putin is putting together a team to guarantee his election victory for a fourth term by a wide margin in 2018. It should hold regular elections, and the election of Putin, which are more similar to a referendum of confidence to the incumbent President.
Sands somehow hinted at future plans of the Kremlin. Regarding the upcoming presidential elections in Russia, Peskov made clear that Putin will go for a new term. He could not clearly answer the question of the journalist will be allowed Alexei Navalny to participate in elections of the President of the Russian Federation in 2018.
Comments
comments