Putin plans to seize the Donbass – Bloomberg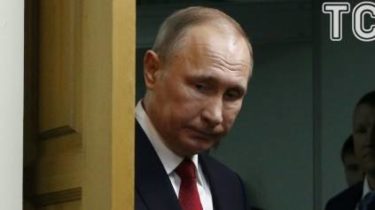 Russian President Vladimir Putin tightens control over the occupied territories of Eastern Ukraine and wants to separate the Donbass from Ukraine by a gradual integration with Russia. It is reported Bloomberg citing its own sources.
The Agency notes that the strategy of the Russian guarantor is the complete separation of the border areas of Donetsk and Luhansk. About it journalists were reported by three unnamed sources close to Moscow. Also, the officials noted that Putin has no plans for recognition or annexation of territories.
It is noted that Russia is gradually moving toward the goal of using the blockade of Donbass as a political cover to take on key economic links with the occupied territories. Last week, Russian Railways has reduced rates for transportation of coal and iron ore at points near the Donbas. This will allow Russia to replace the Ukrainian supplies, suspended from Kiev.
See also:
Poroshenko predicts more aggressive actions of the Kremlin with the approach of presidential elections
"The next step for the separation of Donbass – there is no doubt," – said the Deputy of the illegitimate state Duma from "United Russia" Konstantin Zatulin.
His assessment about the Kremlin's plans confirmed Alexei Chesnakov, ek-the employee of the Kremlin, which now advises the administration of Putin's policy in Ukraine and another official of the Russian government, who asked not to be named.
Economist of the Academy of national economy and public administration under the President of the Russian Federation Andrey Margolin expressed the view that after two years of recession, Russia can hardly afford to continue to "subsidize" the occupied Donbass, therefore, needs to include the occupied territory of commercial to offset the costs.
"The less the economy is integrated with Russia, the higher the cost," said Margolin.
See also:
Only the rule of force. Poroshenko said about the disinterest of the Russian Federation to achieve peace in the Donbas
As previously reported, the media reported that the leaders of the so-called "DNR" and "LNR" Alexander Zakharchenko and Igor Plotnitsky began "annexation" of the occupied territories to the Russian Federation, and the Kremlin, meanwhile, has lined up for the "nationalized" enterprises ORDO for new suppliers to replace the lost because of the blockade of the Ukrainian enterprises.
18 February, the press service of the Kremlin announced the signing by Vladimir Putin of the decree about recognition of the so-called "passports" ARDLE.
President Petro Poroshenko said in response that while recognizing the "passport", "DNR" and "LNR", President Putin once again confirmed that the occupation of Donbass under the control of the militants-separatists, and the Kremlin directly.
The legalization of so-called "passports" terrorist "LNR" and "DNR" was condemned by the international community, in particular negatively spoke at the U.S. Embassy in Ukraine and the OSCE, calling such actions a violation of the Minsk agreements and podivam peace efforts in Ukraine.
Comments
comments