The Kremlin has responded to the charges about the plans for the capture of Donbass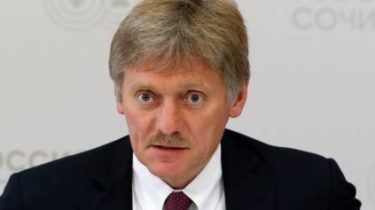 Press Secretary of the President of Russia Dmitry Peskov called "naive and primitive" media publications about the attempts of Moscow to separate the Donbass from Ukraine.
He said this to journalists, reports TASS.
"For many years, and President Putin, and Russian representatives at various levels say this: that Moscow does not try to integrate into the Russian Federation of the unrecognized Republic of Donbass DND and LNR", – said the representative of the Kremlin.
He noted that "one plan is to achieve implementation of the Minsk agreements."
Peskov called the relevant publications in the media as "naive and primitive" and emphasized that Russia only wants the implementation of the Minsk agreements.
See also:
The Kremlin continues to prepare for full-scale war – Turchynov
Recall that Bloomberg, citing its own sources reported that Russian President Vladimir Putin is tightening control over the occupied territories of Eastern Ukraine and wants to separate the Donbass from Ukraine by a gradual integration with Russia.
The Agency notes that the strategy of the Russian guarantor is fully isolated border areas of Donetsk and Luhansk. About it journalists were reported by three unnamed sources close to Moscow. Also, the officials noted that Putin has no plans for recognition or annexation of territories.
Earlier media wrote that the leaders of the so-called "DND" and "LNB" Alexander Zakharchenko and Igor Plotnitsky began the annexation of the occupied territories to the Russian Federation, and the Kremlin, meanwhile, has lined up for the "nationalized" enterprises ORDO for new suppliers to replace the lost through the blockade of the Ukrainian enterprises.
18 February, the press service of the Kremlin reported about the signing by Vladimir Putin of the decree about recognition of the so-called "passports" ARDLA.
President Petro Poroshenko said in response that while recognizing the "passport" "DND" and "LNB", President Putin once again confirmed that the occupation of Donbass under the control of the militants-separatists, and the Kremlin directly.
The legalization of so-called "passports" terrorist "LNB" and "DND" was condemned by the international community, in particular, spoke negatively at the U.S. Embassy in Ukraine and the OSCE, calling such actions a violation of the Minsk agreements, and explosion of peace efforts in Ukraine.
Comments
comments