Case Martynenko will continue to consider a controversial referee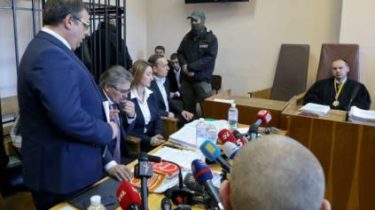 In the Solomensky district court of Kyiv continues consideration of the case the people's Deputy Nikolay Martynenko.
Lawyers said the disqualification of judge Alexander Bobrivnyk, accusing him of "interest in making unjust decisions".
However, the court decided that no grounds for removal bobrovnikova.
"To deny the claim, the complaint is not subject to appeal", – is spoken in the decision.
Now begins the main proceedings, is expected to remand.
See also:
The scandalous referee Bobrovnik decide whether to replace themselves in Martynenko
Aghdam, 20 APR detectives NABOO and SAP prosecutors arrested two people —former Deputy Mykola Martynenko and his accomplice Sergei Fracture on suspicion of forming a criminal organization and of misappropriation and embezzlement of property per SE "VostGOK" damages in the amount of 17.28 million dollars. The detainee it is reported about suspicion. Now the issue of election of a measure of restraint.
According to investigators, in 2013-2016 Martynenko, using official position, had any involvement in the creation of a criminal group that embezzled public funds. SE "Eastern mining and processing plant" signed a contract with the intermediary company controlled by the former MP, for the supply of uranium concentrate at inflated prices. In the NEB noted that as a result of this transaction the state was damaged by 17.28 million US dollars.
Mykola Martynenko said that the charges against him was fabricated at the direction of the Director of NABU Artem Sytnik.
Comments
comments