Gontareva settled in Washington in a room for $ 400. and threatened the journalists by the police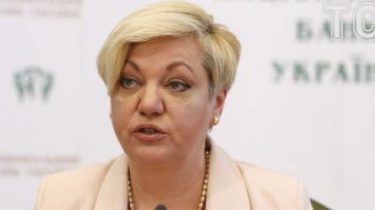 The head of the national Bank of Ukraine Valeria Gontareva settled in one of the most expensive hotels in the capital of the USA. As reported in the story TSN.19:30, she arrived in Washington as a member of the Ukrainian delegation – the Cabinet sent and approved her participation in the trip at the spring meeting of the International monetary Fund.
How did you manage to install a room in the hotel costs 400 dollars a night. The chief banker of Ukraine refused to communicate with journalists. She stated that there is no time to answer the questions, because she had appointed a number of meetings.
While chatting with well-known financiers Valeria Gontareva said that Russian banks in Ukraine complied with all necessary regulations. "I can tell you that I can not complain what they do with your hand something. Over the past two years they have reduced their presence on the Ukrainian market from 15% to 8%. Frankly, we have agreed to reduce their stake to 0%. What is happening these days, that some politicians, so called nationalists, believe me, have no connection with reality," – said the head of the national Bank.
See also:
What goes Gontareva
Gontareva instantly changed his tone when the moderators began to take questions from the audience. One of them is resonant findings in the report by Ernst and Young. The international auditors of the company have not found evidence to confirm Gontareva to the "PrivatBank". "Okay, I'll answer. The report was not officially released by Ernst and Young. As Chairman of the National Bank, I've seen the preliminary report. And, as I said during my speech, the results were even worse than the previous. 143 billion is not all the losses incurred by our country as a result of these illegal actions of this Bank," she said.
In Washington, the head of the National Bank will remain until early next week. At this time, the National anti-corruption Bureau will conduct an investigation regarding activities and loans of the NBU.
Vladislav Sidorenko, Natalia Song
Comments
comments