An unexpected conversation: the state Department announced the details of the sudden communication Tillerson and Poroshenko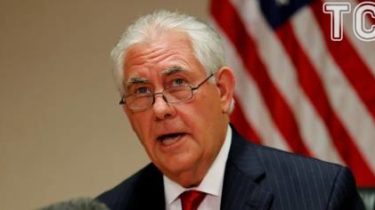 It became known what he was talking about the President of Ukraine Petro Poroshenko and U.S. Secretary of state Rex Tillerson in a sudden telephone conversation on Sunday evening.
This is stated in the official report of the US State Department, writes UKRINFORM.
"The Secretary of state Tillerson called Ukrainian President Petro Poroshenko to discuss his recent trip to Moscow and his message to the Russian leadership that the United States although interested in improving relations with Russia, Russia's actions in Eastern Ukraine remain an obstacle for this", – underlined in the message.
Also the head of the head of state noted the importance of further progress in the issues of reform and fight against corruption".
The parties also discussed the incident with the death of a US citizen in the composition of the OSCE SMM. "This tragic incident underlines the need for all parties, especially the Russian-controlled separatist forces, to immediately implement their obligations under the Minsk agreements", – reported in the statement of the state Department.
See also:
The explosion of a car of the OSCE: after the death of the American US urges Russia to use its influence on militants
Tillerson reiterated the US commitment to the sovereignty and territorial integrity of Ukraine and assured that "the sanctions against Russia will remain in force until Russia will return control of the Crimean Peninsula of Ukraine and does not comply fully with their obligations under the Minsk agreements".
Comments
comments