Another gaffe: Lavrov again called the militants "LNR" representatives of the "Lao people's Republic"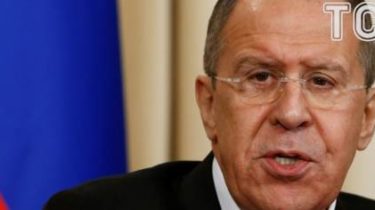 The head of the foreign Ministry of Russia Sergey Lavrov has once again misspoke, calling the militants in the Donbas representatives of the "Lao" instead of "Luhansk people's Republic".
So, Lavrov stated in Moscow after talks with OSCE Secretary General Lamberto Zannier, speaking about the need to investigate the fact of undermining of a car of the OSCE observers on the temporarily occupied territory of Luhansk region.
See also:
The OSCE Secretary General cut short his visit to Moscow because of the death of the observer in the Donbass
"We exchanged views on how to ensure objective and transparent investigation. Mr. Zannier as Secretary General of the OSCE will undertake prompt actions in this regard", — said Lavrov.
"We believe that the investigation should participate, along with the OSCE SMM representatives (Tripartite contact group), and the Joint center for coordination and control, and the government of Ukraine and proclaimed the Lao… "Luhansk national Republic", — was corrected after the reservation Lavrov.
See also:
OSCE to resume patrols in the "LC"
The Russian foreign Minister said that measures to ensure the security of mission personnel should be strengthened.
As you know, Lavrov is not the first time calls "Lao people's Republic" militants, who control part of Luhansk region.
Comments
comments