Scandalous PACE President made a sensational statement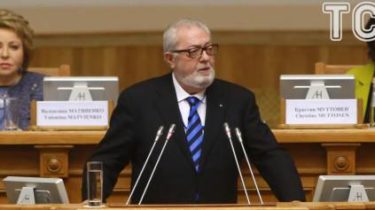 During a hearing of the PACE concerning the trip of the President of the parliamentary Assembly of the Council of Europe Pedro Agramunt and two of his colleagues in Syria, he made a "sensational statement".
This was announced by first Vice-speaker of the Verkhovna Rada, Ukraine's representative to the Humanities subgroup of the Trilateral contact group Irina Gerashchenko in Facebook.
"Today it became clear that certain individuals gained access to my documentation. Person came to my office, I had the money, they went to the office, but not to pick up the money , and according to the documents. That's what worries me. I informed the police of Strasbourg", – quoted words of Agramunt Gerashchenko.
In turn, the question from conservatives about if he was being manipulated, why is it on the same day gave a press release and did not inform about his visit of the PACE Bureau, Agramunt said: "in Syria there is no phone and Internet, I had no connections, I got too late in the evening, access to the Internet."
See also:
The delegation of Ukraine, Denmark and Poland made a joint statement on the visit of the PACE President to Syria
In addition, Argument said that he "came to monitor the situation in Aleppo". However, according to Gerashchenko, his words are lies.
"But he aggressively blames Russian media. Cool, that he did not see the participation of the propaganda of the Russian media in a hybrid war against Ukraine", – wrote Gerashchenko.
Recall Agramunt on the European people's Party group in PACE acknowledged that made a mistake when I fly Russian aircraft in Syria. Agramunt said that the Russian lied to him and framed, and that the voluntary resignation he will not leave.
The PACE delegates did not expect the visit of their President Pedro Agramunt in Syria at the invitation of the Russian deputies. As reported by the MP, member of the Ukrainian delegation to PACE Vladimir Aryev, the PACE delegates shocked by this visit.
Ambassador, permanent representative of Ukraine to the Council of Europe Dmitry Kuleba said that the visit of the President of the parliamentary Assembly of the Council of Europe Pedro Agramunt to Syria in the group together with state Duma deputies and deputies of the PACE was a complete surprise for Ukraine.
Information about the visit Pedro Agramunt to Syria appeared on March 20. Russia announced this event as the signal that is still present in the PACE, although two were sent to Strasbourg a list of his delegation. And before that the Russian delegation was deprived of voting for the annexation of Crimea, and then, offended, Russia stopped work at PACE, and this year expressed a desire to return.
Comments
comments