Lyashko on a 4-hour interrogation in NABOO swore at detectives and the Prosecutor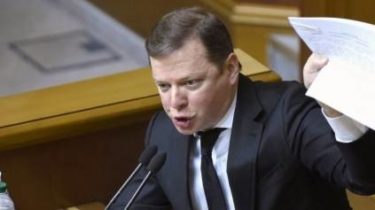 The radical Oleg Lyashko the interrogation in the National anti-corruption Bureau of Ukraine swore at detectives and the Prosecutor.
This is stated in the communication from the Special anti-corruption prosecutors in Facebook.
"During interrogation Oleg Lyashko behaved provocatively and derogatory to the detectives and the Prosecutor, calling them obscene words. The details of the specified interrogation will be made public after completion of a pretrial investigation", – reported in SAP.
The head of the NABOO Sytnyk announced Wednesday that a Specialized anti-corruption Prosecutor's office gave them a case of illicit enrichment Lyashko. In the SAP noted that the criminal proceedings initiated with the aim of establishing or refuting the legality of getting Lyashko said property. Pre-trial investigation in criminal proceedings proceeds and is on control of SAP.
Lyashko himself is his interrogation in the NEB called as "four hours of talking about everything". According to the chief of Radikal, spoke to him as a witness in the case of illicit enrichment. However, someone did not elaborate, according to a story TSN.
The radical case against him is called "political order".
"If the head of SAP will not report publicly the facts which are the basis of the brought against me of criminal proceedings, he should resign because he is a political order," – said Lyashko.
See also:
"Give exhaustive testimony on this vysochana case." Lyashko assured that he come in for questioning NABOO
Anti-corruption Prosecutor advised him not to panic sealed.
"There is a consequence, it should establish sufficient data. If you collect, will be the second stage of the criminal process – the announcement of suspicion. If such data is not collected, will be pinata the decision to shut down production, and make tantrums to turn a consequence on the show, I, as a Prosecutor," – said the head of SAP Nazar Golodnitsky.
Comments
comments