Poroshenko and Lukashenko prayed for peace and received the icon as a gift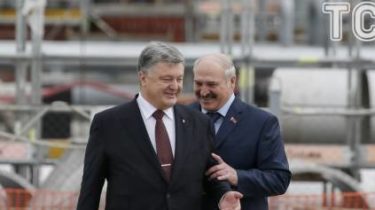 During the visit of the President of Ukraine Petro Poroshenko in Belarus he and his counterpart Alexander Lukashenko prayed for peace.
This reports the press service of the Ukrainian guarantor.
Politicians visited St. Michael Church, where he prayed for peace and prosperity of Ukrainians and Belarusians. Prayer was held by the Abbot Alex. He gave both presidents of the icon "the last supper" as a symbol of the unity and harmony of the Christians.
See also:
Lukashenko will not allow using its territory to attack Russia to Ukraine – Poroshenko
Poroshenko in response gave the Abbot an icon "Chernobyl has Rescued" and was reminded of the Chernobyl disaster, noting that thus "the grace of God managed to overcome the consequences of the Chernobyl disaster".
In addition, Poroshenko talked to the locals and thanked for the warm reception in Belarus.
As previously reported, the anniversary of the accident at the Chernobyl NPP, President of Ukraine Petro Poroshenko met with his Belarusian counterpart Alexander Lukashenko and said the friendship between the two countries. In response, Lukashenka said that the Belarusians will arrive on the territory of Ukraine "only on tractors" and will try to do everything for peace in Ukraine.
Comments
comments