The attack in balakliia – the handiwork of the scum of Ardzinba, – Shkiryak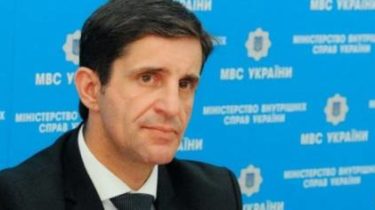 True
The adviser to the interior Minister Zoryan Shkiryak confirmed the authenticity of the correspondence of the Deputy Surkov, the Abkhaz separatist Inal Ardzinba and curator of the project "Bessarabian people's Republic" of Artem Busily. Hacked Ukrainian hackers correspondence showed the involvement of Ardzinba leadership of the operation to blow up the Armory in Balakliya. Shkiryak believes that Surkov and his subordinate Ardzinba play a key role in sabotage in Ukraine.
"The essence of the question is very simple – Inal Ardzinba directly supervises sabotage against Ukraine. Of course, the Kremlin's chief curator is Surkov, as it is a direct, shall we say, a slave, who is engaged in his own project "Bessarabia", well, you know about it. The whole situation in the South-East of Ukraine – it's all the handiwork of the scum of Ardzinba", – Shkiryak declared to journalists.
The adviser to the interior Minister expressed confidence that the attack in Balakleya was planned in the Kremlin and is undoubtedly one of the elements of hybrid war which the Russian Federation is waging against Ukraine.
"Of course, Inal Ardzinba is one of the key figures. First, I must say that he is a representative of Putin's team, is the Deputy an open enemy of Ukraine Vladislav Surkov, and, of course, Inal Ardzinba is one of those who are directly involved in planning acts of sabotage in the state of Ukraine. Personally, I have no doubt in this. So in this situation I can completely trust the information from Ukrainian hackers. Of course, you remember that at the time was email hacking Surkov, who confirmed his direct involvement in attempts to internal destabilization of the situation in Ukraine, so both of these scum are playing a key role in the sabotage, both direct and internal, which is carried out by Russian intelligence services against Ukraine", – said Shkiryak.
According to the site "Peacemaker" Ardzinba "is the first Deputy Russian presidential aide Vladislav Surkov, organization, coordination and financing sabotage and subversive activities on the territory of Ukraine".
Earlier the Minister of internal Affairs Arsen Avakov stated that the fire and explosions at an arms depot under the Balakleya in Kharkiv region are the result of Russia's aggression against Ukraine.
More detailed information on the website.
Comments
comments