"Daddy, what's that on your leg?": Nasirov gave the last argument for mitigation measure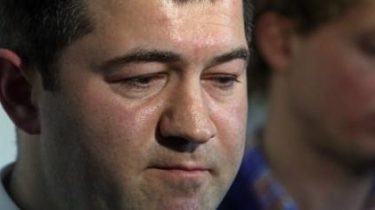 Today, April 27, Solomensky court of Kiev continued consideration of the extension of a measure of restraint Chapter Gospitalniy service of Ukraine Novel Nasirova.
As the correspondent of TSN from the courtroom, as of 13 hours the judge has left in a consultative room for pronouncement of the final decision. And before that, Nasirov took the last word for the argument of why its obligations should soften.
"What should I say when he asks: "Daddy, what's that on your leg?", – said the Chairman of the SFS, referring to the ankle bracelet.
See also:
Nasirov said, where did you get the famous blanket plaid
Nasirov also expressed dissatisfaction that needs to notify a Prosecutor every time is going somewhere, even a walk with the child. The head of the fiscal service and resents the fact that cannot go abroad, they say, was in the Ukraine and presidents under investigation, and did not lose the possibility to move freely around the country.
By TSN correspondent Olga Vasilevskaya.
Earlier, the Solomensky district court of Kiev postponed consideration of the extension of a preventive measure suspended Chairman of the State fiscal service Novel Nasirova. His lawyers opposed the transfer, citing the planned operation of his client. The judge warned that if Nasirov will not appear at the morning session, it will bring in court.
Nasirov is suspected of abuse of office and embezzlement of public funds in the amount of over UAH 2 bn. The consequence considers that Nasirov, acting in the interests of the Deputy Onishchenko, under the "gas case" is groundless, provided the number of enterprises the possibility of tax liabilities in installments.
Dismissed the head of GFS released on bail in the amount of UAH 100 million. Money for him was made by his wife Catherine Klimovska. Answering the question of where the money Nasirov said that, they say, would be better if he sat in the detention facility and argued his guilt.
Comments
comments