Lyashko said that the house for 15 million UAH took a loan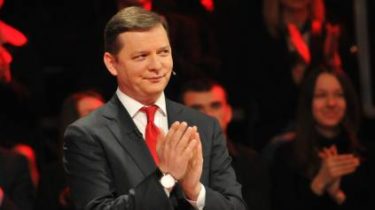 The leader of "Radical party" Oleg Lyashko said that he had purchased a house for 15 million hryvnias on credit.
He stated this on Thursday, April 27, in front of the Specialized anticorruption Prosecutor's office, reports UKRINFORM.
Lyashko denied the allegations regarding his illicit enrichment, in particular, regarding the acquisition of the home for 15 million UAH.
"I'm really at the beginning of this year bought a house that I rented. I honestly have the value of the home and paid all the taxes on it," – said the Deputy.
See also:
Lyashko again declared millionaire, forks and a new house Rosita
He also noted that she had not yet paid for the house because under the terms of the contract, which was concluded, he bought it in installments.
"A corruption fighter said that I bought it. 15 million is the cost of the house, which I, according to the agreement, will pay the next 5 years. So I would argue that there is no basis to proceed against me things to do", – said Lyashko.
Recall that a Specialized anti-corruption Prosecutor's office referred to the National anti-corruption Bureau investigation on suspicion in illegal enrichment of people's Deputy Oleg Lyashko.
Earlier it was reported that the MP from the Radical party, Oleg Lyashko bought a house and two plots of land worth 15 million in the town of Kozyn, Kyiv region. We are talking about the house of 550 square meters and two land plots with a total area of 0.6 ha.
Note that golovni of radical Oleg Lyashko the interrogation in the National anti-corruption Bureau of Ukraine swore at detectives and the Prosecutor.
Comments
comments