Flooded with sheep Russian ship and rap covers from politicians. Positive news of the week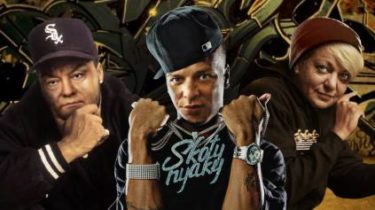 At the end of the week TSN.ia collected the news in recent days.
Over the past 7 days, the Ukrainians were laughing at the sheep scuttled Russian ship and listened to rap covers from Ukrainian politicians.
In addition, users have been looking for videos with bright traditional Ukrainian attire.
THE RUSSIAN SHIP SANK SHEEP
On 27 April, the Russian intelligence ship Liman sank in the Black sea at a relatively shallow depth. The cause was a collision with another vessel – "Ashot-7" – which was carrying cattle.
Nick responded to the incident, hundreds of jokes and memes.
"SLEEPING PILL" FOR BABIES
Motivational speaker Danielle Eisenman demonstrated in the Network an excellent trick to stop a baby crying in seconds with one sound. The father was broadcast live through Facebook, when his daughter started to cry. He made a long sound of "Om" and then the baby started to calm down and for a few seconds quietly asleep.
RAP COVERS FROM UKRAINIAN POLITICIANS
TSN.ia gathered together his most popular musical creation, in which quotations of politicians sound the music of popular rap artists. The following five compositions are scored in total on Facebook and YouTube almost 2 million views.
MAY HOLIDAYS
In the court of the may holidays, so all employees have the chance to travel out of town for a few days. TSN.ia have prepared a small guide.

THE ROLLERS WITH THE UKRAINIAN OUTFIT
In the network appeared the series atomspheric rollers with Ukrainian women who try on ethnic costumes from different regions of Ukraine. So, access is already a video demonstration of ethnic clothing from Zhytomyr, Chernivtsi and Ivano-Frankivsk region. The authors of the project as a whole promise to provide rollers 16 during his first season on one of the fan zones to the Eurovision 2017 in the center of Kiev.
10 COLOURFUL PAGES INSTAGRAM
Sometimes Instagram is full of hype and questionable posts about beauty products, but there are a lot of pages, which really catches the eye. Gathered for you a selection of accounts that will decorate your tape.
LOVE TO DEATH
Not very positive, but the incredible romantic story.
The couple from Chicago who had lived together for 69 years, died with a difference of 40 minutes, holding hands. So, Teresa Watkin passed away at 00:12 on Saturday, April 22, at the age of 89 years. Her husband Isaac died around 00:51 at the age of 91 years. According to relatives, the couple were holding hands when the woman died. Isaac Watkin stopped breathing when relatives separated their hands, said the daughter of the spouses.
Comments
comments