"Will be interesting". Yanukovych gave to the ECHR the complaint about the unlawfulness of his conviction in absentia – the lawyer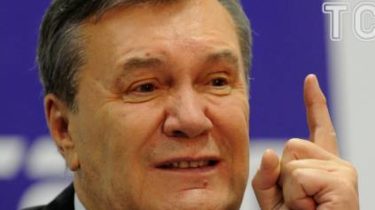 Stripped of the title of President of Ukraine Viktor Yanukovych has filed a complaint with the European court of human rights because of an "illegal conviction in absentia" for treason and failure to provide access to participation in the trial.
This was stated by the lawyer Yanukovych Vitaliy Serdyuk, writes UNIAN.
"Yanukovych gave us his appeal to the ECHR, because it considers illegal his in absentia conviction under article "Treason" and said the lack of access to participation in the process," he said.
According to Serdyuk, the application was accepted by the Ukrainian side protection, handed over to the representative of the British law firm Joseph Rosman and should be directed to the ECHR.
Also, the lawyer assured that he will be present at the preparatory meeting of the Obolon district court of Kyiv, which is scheduled for may 4.
"Believe me, it will be interesting," he said.
We will remind, Yanukovych said that it has a number of questions to the GPU is relatively open against him of treason. Yanukovych said that is not properly received suspicion of treason, and therefore asked not to consider himself a suspect. This is stated in the letter by the former President to the Pechersk court on January 18.
Suspicion Yanukovych has declared the public Prosecutor of Ukraine Yury Lutsenko during videotapes former head of state. Lutsenko also said that he will pass the documents to the lawyers who were present at the hearing and properly to Rostov. Note that the main argument of the prosecution was a letter from Yanukovych to Putin asking for military support.
Note that March 28, the court of Appeal instructed the Obolonskiy district court of Kyiv to consider the case of former President Viktor Yanukovych, who is accused of treason.
Comments
comments