Erdogan and Putin agreed on lifting sanctions against Turkey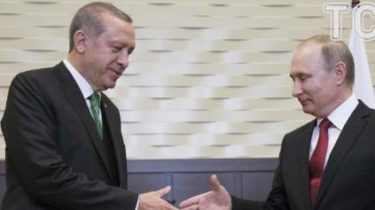 Russian President Vladimir Putin during talks with Recep Tayyip Erdogan, agreed to abolish almost all the economic sanctions imposed by Russia against Turkey.
It is reported by BBC Russian.
According to Putin, "we can say that (these limits already) dropped."
However, that the restrictions imposed on the supply to Russia of Turkish tomatoes, as well as Russia imposed a visa regime for Turks.
"In addition to tomatoes, we came to an agreement on all issues. We want Turkish tomatoes appeared on the Russian market. They are delicious and cheap. And these restrictions are temporary," said Erdogan.
Explaining the decision regarding visas, Putin stressed that the challenge was to improve the interaction of special services in connection with the terrorist threat.
Also, after the negotiations it became known about the launch of a joint Russian-Turkish investment funds totaling $ 1 billion, reports "Prime".
A Memorandum on the establishment of the Fund, the Russian direct investment Fund and the Sovereign Fund of Turkey signed March 10. That Turkey and Russia may create joint investment Fund, which funds direct, including the financing of the project for construction of NPP "Akkuyu", reported in August 2016.
As noted by the Minister of economy of Turkey Nihat Zeybekci, the funds may be used for other joint projects.
According to Putin, Russia will invest in construction of Turkish nuclear power plant "Akkuyu" 22 billion dollars.
See also:
Putin will meet with Erdogan in Sochi to discuss Syria
Recall that today, April 3, in Sochi started the talks between Putin and Erdogan. Putin thanked Erdogan for the fact that he arrived in Sochi. According to Vladimir Putin, this suggests that relations between the two countries "acquire a special status and are restored in full".
In turn, the Turkish President noted that the joint actions of Moscow and Ankara could affect the middle East.
Comments
comments