In Poland detained a Pro-Kremlin biker club "Night wolves"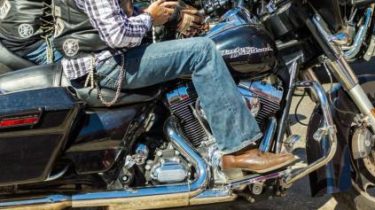 Polish law enforcement officers detained the citizen of Russia, from the Pro-Putin biker club "Night wolves" Nikolay Loginov.
About it RIA Novosti said the head of the Polish branch of the club Dariusz..
"In the city of Mysłowice detained Nikolai Loginov, for no reason," he said, without specifying the reasons for the detention.
According to him, Loginov has all the necessary documents, including a Schengen visa.
"I think that soon it will release. Now is a Russian Consul," said he.
Action biker "Road to Victory — Berlin" was launched on 27 April from the international bike center in Nizhny Mnevniki. The bikers drove through Moscow, Smolensk, Katyn, Minsk, Khatyn, Warsaw and wrocław. The route is through Budapest, Bratislava, Prague, Dresden and Berlin.
It is noted that the convoy of motorcyclists arrived in Poland on Sunday.
See also:
Georgia missed Putin's "Night wolves" on his territory
Recall, the Russian bikers every year trying to arrange the ride from Moscow to Berlin in honor of the anniversary of victory Day.
Last year three of the "Night wolves" not allowed to cross the Belarusian-Ukrainian border. The guards were not allowed motorcyclists with separatist sentiments on the territory of Ukraine to prevent possible provocations.
The Russian foreign Ministry then said that he regarded the refusal to concede in a country of bikers from the Russian motorcycle club "Night wolves" as a cynical and criminal gesture, aimed at deterioration of bilateral relations.
Comments
comments