Of Internet users touched by the video with the happy Panda that rode on horse toy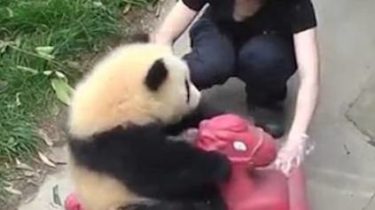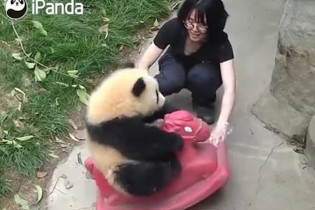 In the Internet appeared the video, as a baby Panda riding astride a toy horse.
This happened at the research base for giant Panda breeding of Chengdu in China.
The video shows how happy nine-month-old Panda cub named Quii riding on a red horse, and next to her sits a woman-an employee of the center.
However, the toy has lost its appeal, when the other caretakers for the pandas and suggested Cvii her favorite fruit is the Apple. Then the Panda left the horse and went there.
See also:
The photographer showed walk funny the baby Panda at the Madrid zoo
Meanwhile, the Network is gaining popularity touching video of how the caretaker cleans a little Panda in the Wolong nature reserve in Sichuan province, China. Little bear didn't even protest when he was flipped upside down to brush.
Comments
comments