Six seriously wounded soldiers in the East, save at the hospital of the Dnieper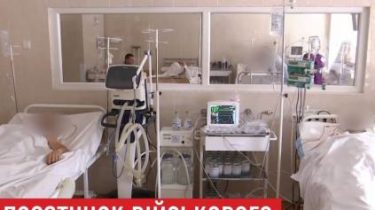 For the life of 6 soldiers now fighting the doctors of the Dnieper. They have mine-explosive and bullet wounds. Three guys in a critical condition, says TSN.16.45.
A father from Kharkov Kostya now believe he was born in the shirt. Survived a mortar attack. The shell exploded two meters away from him. The blast grazed his head.
See also:
TSN crew came under fire near Marinka
From Svetlodarsk arc, Marinka, Avdeevka and Krasnogorovka after fighting this weekend in the regional hospital of the Dnieper brought six fighters. 35-year-old Alex got a splinter in the leg, it had to be amputated, he is still in a coma. 28-year-old Sasha sniper bullet pierced his head. A real fighter for life was this 20-year-old boy.
A splinter pierced the head of a Roman, his life hung in the balance. The operation lasted three hours. The guy survived and recovered. Already begins to speak.
See also:
In the area of ATO during scheduled class blew up a military
Gradually recovers and Lviv Igor – in hospital of the soldier with the best brought in mid-April. He is one of 5 angels Institute. So called the guys who February 20 2014, rushed to rescue the wounded. Now the war to the soldiers and he was injured when he was dragged from the battlefield brother. The bullet damaged the language center in the head – two weeks the soldier did not. Now surprised doctors.
Meanwhile, the wounded who were taken this weekend in Odessa, have already poured 10 liters of blood, and conducted the first surgery. Guys will survive, I hope the doctors.
Comments
comments