Interpol has confirmed it has stopped the investigation of Yanukovych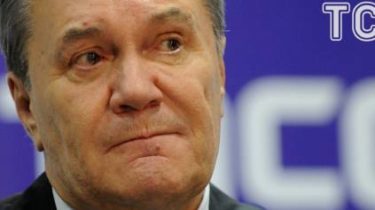 The Ukrainian national Interpol Bureau confirmed that the organization had stopped the investigation deprived the title of President of Ukraine Viktor Yanukovych.
This was announced by the representative of the National police of Ukraine Yaroslav was Trakalo, – writes "Ukrainian truth".
Relevant information is entered in the national Bureau of the Commission for control over files Interpol. According to have Trakalo, the Commission also ordered the Interpol General Secretariat to delete from the database of wanted Yanukovych and all information in relation to his son Alexander. Ukrainian Bureau transmits the received information, namely a copy of the decision of the Commission for control over files Interpol against Yanukovych, the Prosecutor General's office of Ukraine as a pre-trial investigation body.
See also:
Avakov had issued a formal refusal of Interpol to track down Yatsenyuk at the request of the Russian Federation
With respect to such actions of Interpol, the speaker noted that it can only comment on the GPU.
Recall, the Ministry of internal Affairs of Ukraine has addressed in the Interpol with the request to take into account the position of Ukraine (as set out in the statement of Affairs) and to prohibit political party inspired by the Russian prosecution Arseniy Yatsenyuk.
So, the interior Ministry explained that the Russian judicial and law enforcement authorities supposedly issued a warrant for the arrest Yatsenyuk, and accuse him of so-called "participation in an armed gang", "the deliberate murder of two or more persons committed on preliminary arrangement by group of persons" and "attempt at a premeditated murder of two or more persons committed on preliminary arrangement by group of persons".
March 27 in the Russian court in absentia arrested the former Prime Minister of Ukraine and leader of the party "national front" Arseniy Yatsenyuk. In Russia he is accused of "atrocities" during the war in Chechnya.
In September 2015, the head of the Investigative Committee of Russia Alexander Bastrykin said that the Prime Minister of Ukraine Arseniy Yatsenyuk in the middle of 1990-ies fought against the Armed forces of the Russian Federation as part of the punitive detachment in Chechnya.
The decision to arrest was taken Essentuksky city court of Stavropol region of the Russian Federation, taking into account the resolution of the investigator of the Main investigation Department of the TFR in the North Caucasian Federal district. The foreign Ministry this decision called absurd.
Comments
comments