Tuck argues that the worsening situation in the ATO is not associated with the negotiations, Merkel and Putin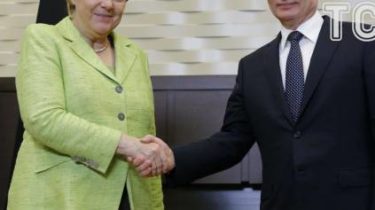 Recent aggravation of the situation in the occupied territories not connected with the conduct of the negotiations in Sochi, German Chancellor Angela Merkel with Russian President Vladimir Putin.
This was stated by the Deputy Minister of the temporarily occupied territories and internally displaced persons, the George Tooke writes "112.Ukraine".
"In my opinion, then I do not see an immediate connection the latest escalation of the confrontation and meeting of Merkel and Putin. From my perspective, this aggravation is only with the onset of spring and summer," said Tuck.
See also:
Putin and Merkel discussed the situation in Ukraine and the lifting of anti-Russian sanctions
Supposedly it is impossible to say that this is somehow due to the cessation of supply on the territory of certain districts of Luhansk region. "I don't think this aggravation is revenge that it has something to do," said Tuck.
Recall that German Chancellor Angela Merkel has asked Russian President Vladimir Putin to ensure that the truce in the Donbass.
"My insistent request to the Russian President is to do everything possible to ensure truce," she said.
Comments
comments