In the annexed Crimea the dog had bitten the daughter of the speaker of the foreign Ministry of the Russian Federation Zakharova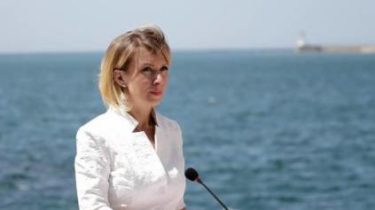 In the Russian-occupied Sevastopol, the dog bit the daughter of press Secretary of the Russian foreign Ministry Maria Zakharova.
This writes the Crimea.Realities.
According to local media reports, the incident occurred on the Boulevard. Daughter Maria Zakharova was taken to city hospital №5. Portal of the city of Sevastopol Forpost, citing sources, said that the hospital "did not have the necessary medicines, which were available in other Sevastopol the hospital, but quickly bring the vaccine it was not possible: although the hospital has a company car – petrol was not available."
The head physician of the hospital Marina Zimina, in turn, said that "the hospital was ready to provide the necessary assistance, but the guest had not yet made the decision where to treat the child." According to her, the hospital had the necessary vaccines and gasoline for the transportation of patients.
See also:
Zakharova disgraced to live because of the inability to read the statement of the Russian foreign Ministry
She Zakharova confirmed that her daughter was bitten by a dog, but denies that in the Sevastopol hospital she was unable to help.
"It was the case – grabbed. Fear and Reva were many. The dog is not stray, graft, is now under the supervision of veterinarians. The child is given the necessary assistance", – Zakharov wrote on his page in Facebook.
Recall, the official representative of Russian foreign Ministry Maria Zakharova boasted in the social network Facebook pictures of the annexed Crimea. She visited the Vorontsov Palace in Alupka and Yalta embankment. The Ministry of foreign Affairs of Ukraine called the illegal arrival of the speaker of the Ministry of foreign Affairs of Russia to the annexed Crimea. Press Secretary of the Ukrainian foreign Ministry Marian Betz said that such visits violated international and Ukrainian law.
Such visits to occupied Crimea – illegal, illegitimate, grossly violate international&UA law. Entail responsibility https://t.co/GCpGISwxca
— Mariana Betsa (@Mariana_Betsa) may 4, 2017
Comments
comments