Watermelon responded to an ad he suspected of embezzling 220 million hryvnia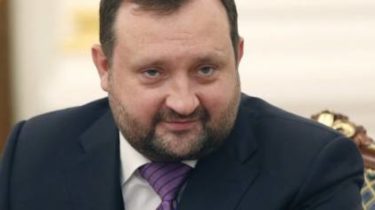 Former first Deputy Prime Minister Serhiy Arbuzov commented on the accusations of the General Prosecutor against him in the misappropriation and embezzlement of budget funds in the amount of 220 million.
This is with reference to the press service Arbuzov informs Radio Liberty.
"The General Prosecutor's office yet didn't bother to put Serhiy Arbuzov informed of this fact, limiting short message on its website. The reason for this, according to Sergei Arbuzov, that the Prosecutor's office realize the absurdity and insignificance of these legal charges. Serhiy Arbuzov had nothing to do with privatization of Ukrtelecom, nor the allocation of money from the state budget for the creation of a dedicated telecommunication network special purpose", – is spoken in the message.
The main purpose of the GPU charges have Arbuzov called "diversion of public attention from the fact that Interpol has removed from search most representatives of the former government for lack of corpus delicti in their actions, in fact, recognize politically motivated the charges, the GPU was put forward previously."
In particular, neither he nor his lawyers know nothing of suspicion in the case of privatization of "Ukrtelecom", which was mentioned in the GPU.
But the ex-official said he was ready to cooperate with the investigation.
See also:
The GPU will hold talks in Latvia on the return of Ukraine confiscated money Arbuzov
We will remind, the PGO reported Arbuzov suspicion in assignment and waste of budgetary funds in the amount of 220 million. Pre-trial investigation in criminal proceedings occurs in cases of default by the buyer of shares of "Ukrtelecom" company "ESU" of the conditions of privatization on the creation of a dedicated telecommunication network special purpose (rmrc), illicit financing create rmrc at the expense of public funds and the privatization of 92 % of the state package of shares of JSC "Ukrtelecom" at the underestimated cost.
Serhiy Arbuzov accused of embezzling public funds amounting to about 220 million hryvnia. February 15, 2016, the General Prosecutor's office of Ukraine started the procedure of special pre-judicial investigation concerning the former official.
Comments
comments