"There is nothing to roam". Gerashchenko in favor of the prohibition of entry of journalists from Russia, illegally visited ORDA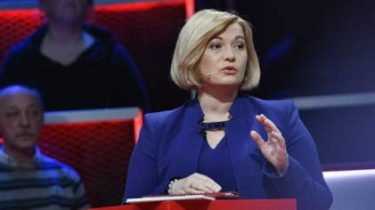 First Vice-speaker of the Verkhovna Rada, Ukraine's representative to the Humanities subgroup of the trilateral contact group Iryna Gerashchenko has supported a ban on the entry of representatives of the Russian media, which violated the Ukrainian legislation at the time of entry in the Crimea occupied by Russia, and considers it necessary to extend this practice to those who illegally visited certain areas of Donbass.
About this Gerashchenko wrote on his page in Facebook.
See also:
"Eurovision" will arrive 70 journalists from Russia, who can arrange provocations – Tymchuk
"Support and share the position of the GPS also expressed a colleague (not a relative) Anton Gerashchenko (Advisor to the interior Minister of Ukraine, MP from NF — ed.) about the ban on entry to Ukraine to those journalists who are illegally visiting the occupied Crimea. Yes and no it is not journalists, but propagandists. And about how everything "bad" at Eurovision — they are out for the curb will write. So there is nothing we have to roam," said Gerashchenko.
Therefore, the Vice-speaker believes that the entry should be banned and the representatives of the Russian media, which illegally arrived on the uncontrolled territory of Ukraine of Donbass.
"But I also believe that a ban on entry to Ukraine should be introduced against those propagandists who illegally, not through PPC, but through the uncontrolled areas of the Ukrainian-Russian border stopped in the occupied Donbass. We need to help GPS to draw up these lists, so anyone who tracked in the occupied Donbas all sorts of Russian propaganda — please inform our security services. And they will make the right decision according to the legislation of Ukraine", — said Gerashchenko.
Yesterday, may 6, at the airport "Kyiv" the state border service found the citizen of Russia, the representative of one of the propaganda channels Russia. The man arrived on a flight from Minsk. When checking the availability of legal grounds for crossing the border, the man was unable to confirm the purpose of their stay on the territory of Ukraine. The foreigner is refused entry and returned it.
In addition, this morning, may 7, the state border service officers are not allowed to cross the border of two representatives of one of the Russian periodicals. They were sent to Ukraine by train through the control point "Konotop". During the design and validation of a Russian citizen could not confirm the purpose of his trip to Ukraine, and also revealed the facts of violation of legislation of Ukraine and visiting the temporarily occupied Crimea through the temporarily closed border-crossing points.
Comments
comments