Degradation of women: Gerashchenko called sexism a signature mark of the militants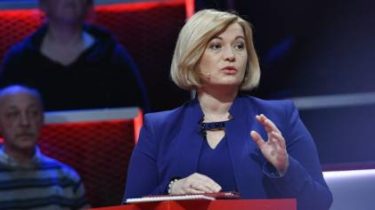 The representative of Ukraine in the humanitarian sub-group of the Trilateral contact group Irina Gerashchenko commented on the situation with sexual harassment, an armed insurgent to the employee of the OSCE SMM.
She reported about it in Facebook.
It requires to assess this shameful fact, and to know the name "the scoundrel from ORDO".
Gerashchenko added that he was preparing the Deputy's request to law enforcement agencies to immediately Institute criminal proceedings on this fact.
"For all crimes in Ukraine, including the temporarily uncontrolled regions, rebels sooner or later will have to answer. And sexual violence are crimes that have no Statute of limitations. In the Balkan countries where the war ended 2 decades ago, and are still such an investigation, and all involved in sex crimes immediately and permanently go to jail", – said the representative of Ukraine.
She also admitted a similar attitude to itself from representatives ORDO.
"By the way, at one of the meetings of the TAG representatives ORDO allowed himself and towards me demeaning sexist comments from the series: "women, we will speak in another place and in another way". I then broke them, and our delegation too. Gryzlov did not say anything… the OSCE representative Martin Sajdik also condemned then sexist statement, "predstaviteli republics"… Sexism and blatant humiliation of women is the hallmark of the leaders of the militants", – summarized Gerashchenko.
See also:
The UN security Council, Ukraine will have something to say about sexual violence in the war – Gerashchenko
We will remind that the head of the Special OSCE monitoring mission in Ukraine Ertugrul Apakan, condemned sexual harassment by armed militants "DNR" to the member of the SMM patrol.
"With all the participating States of the OSCE SMM condemns all forms of violence against women," – said Apakan.
Comments
comments