On 9 may the militants of the "LPR" in Luhansk are preparing a series of provocative bombings during a parade activist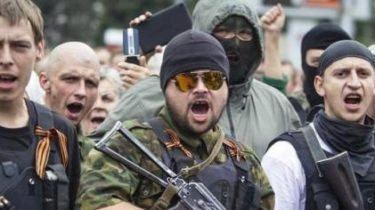 May 9, in Lugansk the staff of the so-called "state security Ministry "LC" prepare a series of bombings during a parade in the Central part of the city.
This was stated by social activist, co-chair of the public initiative "right right" Dmitry Snegirev, writes "GORDON".
"The bombings are planning to hold with explosives, which lay in several places of a mass congestion of people. The aim of provocation is maximum damage and a large number of victims among the civilian population", – he said. From businesses and educational institutions require the maximum number of representatives at the parade.
"The scenario of the Russian curators in the explosions in Luhansk blamed fighters of the 8th separate special forces regiment of the special operations Forces of the Ministry of defense of Ukraine, as it was in the case of blasting of the car of the OSCE mission", – he stressed.
See also:
Law enforcement authorities are preparing for possible provocations during the "Eurovision" and May 9
The activist told that, according to him, the militants captured Ukrainian military in February 2017.
"The political leadership of the Russian Federation, it is imperative to make Ukraine a state terrorist to emerge from the format of the Minsk and then to get rid of economic sanctions," – he concluded.
Recall that Poroshenko and Merkel condemned the "parade" in the occupied part of Ukraine. Petro Poroshenko and Angela Merkel also condemned the attacks on representatives of the OSCE and systemic obstacles in their work.
Comments
comments