Turchynov has called the war in the Donbass with Russia domestic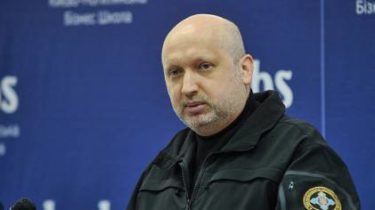 In the crucible of the Second world war burned more than 14 million Ukrainians, this was stated by Secretary of national security Council and defence of Ukraine (NSDC) Oleksandr Turchynov, the press service of the Ministry.
"Today the whole world celebrates the Day of memory and reconciliation, when we remember those people, those tens of millions who were victims of the Second world war. We remember and honor all the heroes who gave their lives defending Ukraine from fascism and Stalinism! In the crucible of this terrible war burned more than fourteen million Ukrainians. They were killed at the front, died from hunger and disease, were removed from their homeland", – he said.
He also stressed that after decades of peace in Ukraine once again are fighting, because of the aggression of the Russian Federation occupied Crimea and "burning East of our country."
See also:
The day of memory and reconciliation: the police are urging people not to use totalitarian symbols
According to Turchynov, the war in the Donbass Ukraine became a domestic.
"The Parallels between the events in Europe in the late thirties of the last century and the present day are obvious: the behavior and motivation of the aggressors at all times the same. To appease it, and the civilized world must decide whether to wait for the next step of the aggressor, to stop him. To this question we have been given an answer. This war was Patriotic, because we are defending our Homeland, my Ukraine", – said Secretary of the NSDC.
We will remind, earlier Poroshenko on the Day of memory and reconciliation posted in social networks touching video about the Ukrainian soldiers. "Glory to the Ukrainian soldiers of all times and all generations!" – signed movie head of state.
Comments
comments